THE BUILDING Roanoke Valley's gathering place for quality independent dining and shopping choices.
The City Market Building continues a long tradition as a food center and gathering place. And as the way we live has changed, so has the building's specific role—from wholesale produce center and meat and fish market to food court—and now even more.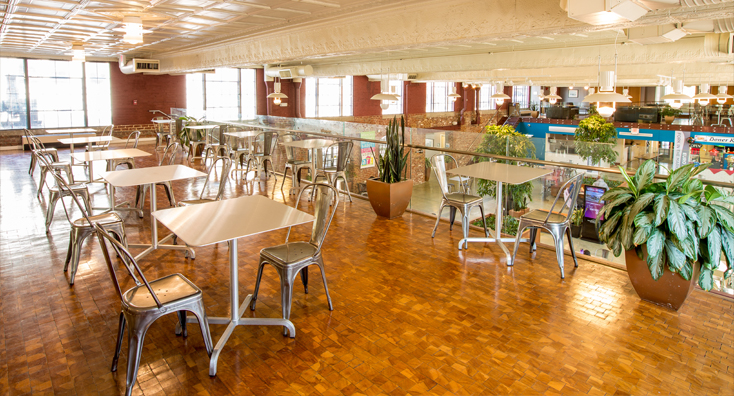 The City Market Building stands at the revitalized heart of the Market District, the city, and the region.
A year-long, $7.9 million renovation was completed in 2011 and the City Market Building stands at the revitalized heart of the Market District, the city, and a region.
The interior of this historic structure is brighter and more open and the outdoor seating has been expanded. The flexible kitchen spaces are home to a wide variety of quality independent, locally owned eateries. The building now opens itself to Downtown Roanoke's revitalized streets and welcomes visitors to special events and meetings in the professionally equipped Charter Hall.
Historic faces of the Market portrayed in 2,000 pounds of porcelain tile.
Roanoke is an arts town and downtown is known for its mix of galleries and museums, arts festivals and concerts in the streets, and local crafts at the City Market. So it's only natural that the City Market Building Foundation include art as part of the building's 2011 renovation.
At each of the four entrances, visitors cross threshold mosaics by Temple Hills, Maryland –based artist Cheryl Foster. The works were commissioned by the City of Roanoke in collaboration with the Market Building Foundation as part of the Percent for Art Public Art Program coordinated by the Roanoke Arts Commission.
Each with a different theme, the detailed and colorful portraits illustrate aspects of City Market Building and its history. Enjoy the photographs below. Better yet, come on down and experience them for yourself.